CrashPlan Pro
CrashPlan Pro Is Better Than Online Backup Alone
CrashPlan Pro Protects your business by combining onsite, offsite and online backup in a single software solution.
Onsite - Fast, convenient backup and restore.
Offsite - Protection for your data in your office, in your home or on the road.
Serviceweb's hosted online Data Vault - insurance against fire, theft and other disaster scenarios.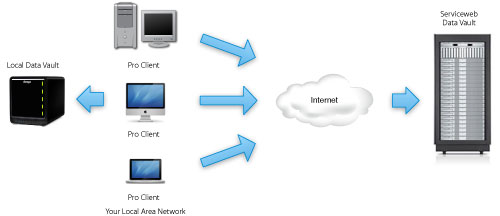 CrashPlan Pro Is Your Complete Solution
Complete Backup Protection
Online backup is key to a well thought out backup strategy. It ensures against extreme data loss scenarios like fire, theft and natural disasters. CrashPlan Pro Protects your business by combining onsite, offsite and online backup in a single software solution.
Fast, Reliable Backup And Restore
Backing up and restoring large amounts of data over the Internet can take days, weeks or even months.
Time is precious when you need your data recovered. With some online providers, you must wait for a package to be prepared before the restore process even begins.
CrashPlan Pro restores your data immediately from your local network, with no Internet slowdowns!
In the event of complete onsite data loss Serviceweb can restore your data from the offsite backup and deliver your data to you.
Bullet-Proof Backup, Guaranteed Restore
CrashPlan Pro protects and restores your data with best-of-breed, enterprise ready backup technology.
Bullet-Proof Backup:
Enterprise grade encryption secures your data the moment it is read from disk
Data de-duplication and compression greatly reduces storage requirements
Byte pattern differentials reduce CPU, disk and network utilisation
CrashPlan Pro Server VMware image adds virtualisation support
Guaranteed Restore:
Automatic integrity checks ensure backup data is always correct and ready when you need it
Archive self-healing corrects any data integrity issues automatically
Unlimited historical versioning restores any file from any point in time
Unlimited files and file sizes let you back up everything
Continuous, Real-Time Backup
In addition to scheduled backup, CrashPlan Pro provides continuous, real-time backup protection.
CrashPlan Pro™ detects data changes then waits for the changes to stabilise. Once the changes stabilise, it only transmits newly created data. If data is merely re-organised, no sending of data is required!
This byte pattern differential approach conserves considerable bandwidth and reduces load on users' computers when compared to traditional backup differentials.
Hassle-Free
With Serviceweb's CrashPlan solution there are no tapes to switch out, no maintenance to preform, no backup logs to review, and no costly licenses to renew. We take care of everything. Our team of experts monitors all backups. We fully maintain the onsite device.
File/folder/email restore
It happens. An important file, folder, email message, or email contact is accidentally deleted. Most restores performed through Serviceweb's CrashPlan service are to retrieve this type of data. And the beauty of having backups running so frequently is that you can pull the file (etc) in the exact version it was no more than 15 minutes ago.
Options and Pricing
Serviceweb's Managed CrashPlan Service
From just £49 per month, for a completely managed solution, you can start to protect your data, today. We have data vaults ranging from 500GB to 2TB and beyond, allowing your storage needs to grow as your requirements change over time.