Mac Pro - Built for creativity on an epic scale.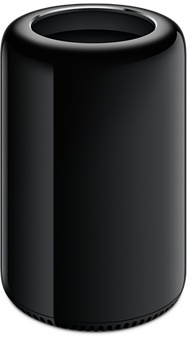 Stunning new design.
Mac Pro is the professional desktop computer reinvented from the inside out. Arranging the most advanced technologies available around a unified thermal core allowed us to make this the most powerful and expandable Mac ever, yet also unbelievably compact and quiet.
Powerful multicore processors.
The new Mac Pro features the latest Intel Xeon E5 processor, with up to 12-core processing power and a four-channel memory controller providing up to 60GB/s of memory bandwidth, all on a single die. And with 40 lanes of PCI Express gen 3 throughput, up to 30MB of L3 cache and over 500 gigaflops at peak performance, you'll never be at a loss for speed.
Dual workstation-class GPUs.
Every new Mac Pro comes as standard with dual AMD FirePro workstation-class GPUs, each with up to 6GB of dedicated VRAM and 2,048 stream processors, providing up to 264GB/s of memory bandwidth and up to 3.5 teraflops. That's enough power to edit full-resolution 4K video while simultaneously rendering effects in the background — and still connect up to three 4K displays.
Faster PCIe-based flash storage.
Next-generation PCIe-based flash storage is up to 2.4 times faster than SATA-based solid-state drives and up to 10 times faster than a 7200-rpm SATA hard drive. So booting up, launching apps, even opening massive files happens in, well, a flash.
Thunderbolt 2.
Build your dream workstation — without being limited to the space inside the enclosure. Thunderbolt 2 delivers throughput of up to 20Gb/s to each external device. And since each Thunderbolt 2 port allows you to daisy-chain up to six peripherals, you can connect massive amounts of storage, add a PCI Express expansion chassis and work with the latest 4K displays.
macOS - It's why there's nothing else like a Mac.
macOS is the operating system that powers every Mac. It's engineered to take full advantage of the hardware and designed to be as easy to use as it is beautiful to look at. macOS includes an amazing collection of apps you'll use — and love — every day. It also features iCloud and other innovative ways for your Mac, iOS devices and Apple Watch to work together.
Model Range and Pricing
MacPro Quad Core and Dual GPU
• 3.7GHz Quad-Core Intel Xeon E5 processor
• 12GB 1866Mhz DDR3 ECC memory
• 256GB PCIe-based Flash Storage
• Dual AMD FirePro D300 with 2GB GDDR5 VRAM each
• USB 3
• Thunderbolt 2
£2999.00
(£2499.17 ex VAT)
---
MacPro 6 Core and Dual GPU
• 3.5GHz 6-Core Intel Xeon E5 processor
• 16GB 1866Mhz DDR3 ECC memory
• 256GB PCIe-based Flash Storage
• Dual AMD FirePro D500 with 3GB GDDR5 VRAM each
• USB 3
• Thunderbolt 2
£3899.00
(£3249.17 ex VAT)
CTO Options:
• 8-Core and 12-Core Intel Xeon
• Up to 1TB of internal flash storage
• Memory up to 64GB
• Dual AMD FirePro D700 GPUs with 6GB of GDDR5 VRAM Each